Braxton Miller WR Ohio State #1

Size/Athleticism: 6'1″, 204 pounds. Elite athleticism. Has straight-line speed and elusiveness. Elite college quarterback before transitioning to WR as a senior. Will be a dangerous wild card/zone read quarterback – future team needs to incorporate this into their offense to take full advantage of his skills.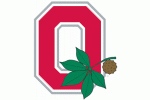 Separation Skills: Extremely limited experience running routes. Almost exclusively used as a deep threat or on a screens and tap passes at Ohio State. Surprisingly effective at Senior Bowl running routes he didn't show at Ohio State. Appears to have the desire/ability to pick up the position quickly.
Ball Skills: Surprisingly reliable hands. Does a nice job adjusting to poorly thrown balls and made some difficult catches at Ohio State. Shows good technique in terms of hand places to haul in the ball. Fumbling has been an issue throughout his career.
Blocking: Gives a decent effort and has the strength to be effective. Technique is not good due to limited experience, but effort is acceptable.
Intangibles: Loved by coaching staff.
Durability: Serious injury risk. Sprained knee in 2013. Multiple surgeries on right shoulder in 2014/15 causing him to miss 2015 season. Missed time with possible concussion in 2015.
Overview: There is obviously a place for Miller in the NFL, it's just a matter of how much more he progresses as a wide receiver. He'll be a dangerous weapon immediately as a versatile receiver, likely lining up primarily in the slot, but also having the speed to be a deep threat on the outside and the running ability to line up in the backfield. Right now, he's worth a 2nd or 3rd round selection, but his projected upside could push him in the 1st round.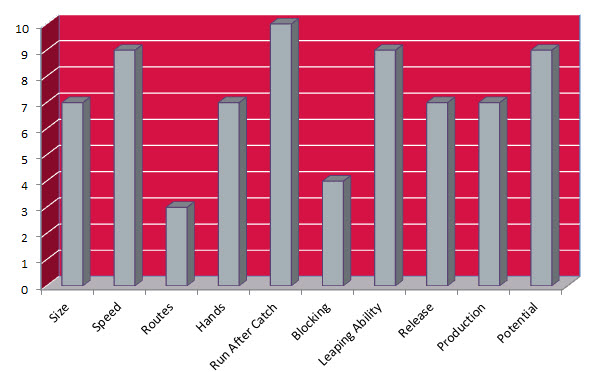 ---
| Rank | Player | Position | School | Grade |
| --- | --- | --- | --- | --- |
| 1 | Corey Coleman | WR | Baylor | 94 |
| 2 | Laquon Treadwell | WR | Ole Miss | 92 |
| 3 | Braxton Miller | WR | Ohio State | 89 |
| 4 | Michael Thomas | WR | Ohio State | 89 |
| 5 | Will Fuller | WR | Notre Dame | 86 |
| 6 | Sterling Shepard | WR | Oklahoma | 84 |
| 7 | Tyler Boyd | WR | Pittsburgh | 82 |
| 8 | Josh Doctson | WR | TCU | 82 |
| 9 | Pharoh Cooper | WR | South Carolina | 77 |
| 10 | Rashard Higgins | WR | Colorado State | 74 |
| 11 | Kenny Lawler | WR | California | 69 |
| 12 | De'Runnya Wilson | WR | Mississippi State | 69 |
| 13 | Aaron Burbridge | WR | Michigan State | 68 |
| 14 | Leonte Carroo | WR | Rutgers | 65 |
| 15 | Thomas Duarte | WR | UCLA | 65 |
| 16 | Tajae Sharpe | WR | Massachusetts | |
| 17 | Roger Lewis | WR | Bowling Green | |
| 18 | Bralon Addison | WR | Oregon | |
| 19 | Cayleb Jones | WR | Arizona | |
| 20 | Jordan Payton | WR | UCLA | |
| 21 | Daniel Braverman | WR | Western Michigan | |
| 22 | Paul McRoberts | WR | SE Missouri State | |
| 23 | D.J. Foster | WR | Arizona State | |
| 24 | K.J. Maye | WR | Minnesota | |
| 25 | Keyarris Garrett | WR | Tulsa | |
| 26 | Alex Erickson | WR | Wisconsin | |
| 27 | Mike Thomas | WR | Southern Miss | |
| 28 | Charone Peake | WR | Clemson | |
| 29 | Demarcus Ayers | WR | Houston | |
| 30 | Byron Marshall | WR | Oregon | |
| 31 | Dom Williams | WR | Washington State | |
| 32 | Kolby Listenbee | WR | TCU | |
| 33 | Chris Brown | WR | Notre Dame | |
| 34 | D'haquille Williams | WR | Auburn | |
| 35 | Malcolm Mitchell | WR | Georgia | |
| 36 | Jordan Williams | WR | Ball State | |
| 37 | Nelson Spruce | WR | Colorado | |
| 38 | MarQuez North | WR | Tennessee | |
| 39 | Kenneth Scott | WR | Utah | |
| 40 | Cody Core | WR | Ole Miss | |
| 41 | Mekale McKay | WR | Cincinnati | |
| 42 | Chris Moore | WR | Cincinnati | |
| 43 | Devon Cajuste | WR | Stanford | |
| 44 | Trevone Boykin | WR | TCU | |
| 45 | Jalin Marshall | WR | Ohio State | |
| 46 | Hunter Sharp | WR | Utah State | |
| 47 | Jamaal Jones | WR | Montana | |
| 48 | Geronimo Allison | WR | Illinois | |
| 49 | Jaydon Mickens | WR | Washington | |
| 50 | Quinshad Davis | WR | North Carolina | |